Wednesday July 1st: Burn Bridge
We are now on the Selby Canal and closer to York at this stage in the day than we were close to Leeds last evening! In other words we've had a long day. We started early in order to travel in the cool and a friendly lock-keeper saw us through the first two locks while I walked the dog in the cool of the day. Then there was nearly an hour of travelling down an especially wide stretch of canal. Nick opened up the engine and the dog brought back up his breakfast - we don't know whether he was seasick or what, but he seems fine now. We had been warned that we could meet one of the 200ft oil barges as we approached Castleton and we did! There she is - we had to wait while she manoeuvred out of the river lock and onto the Aire and Calder. Luckily she had not picked up enough speed to cause us a problem but it is unusual to hear water splashing round the prow, almost enough to splash Caspar and me, but not quite! Turning through the narrow flood lock we moored awhile and chatted to earlier neighbours from Clarence Dock who were moored there. Then on we went, next stop, Ferrybridge, quite close to a power station which had been in our sights awhile. There Nick went off to do a shop, we then had lunch and a break While there a barge went through with heavily laden with sand, Travelling on through a quite narrow section on our way to the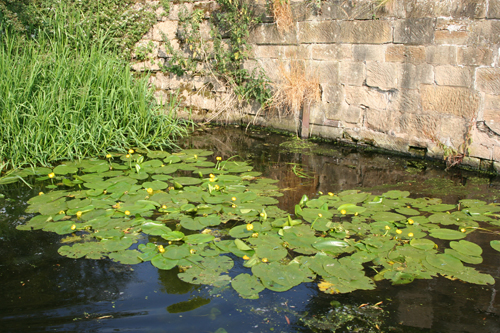 Aire & Calder and Selby we, that is I, were/was relieved not to meet any further commercial traffic.
It was almost four when we turned on to the Selby. The first section is the River Aire is a river, very wide and very windy - all we saw were steep banks and the towers of another power station, appearing ahead or on our port or starboard, high banks, no trees, some livestock and lots of Himalayan balsam. I took the helm for a while to allow Nick a break and had to shout for the sun cream as I felt the sun burn. Finally we turned sharply off the river through another flood lock and we were back in canal-land, with trees and bushes lining a far narrower waterway with water-lilies, and dragon flies as I have never seen dragon flies, with their irridescent blue clear in the sunshine, hundreds and hundreds for miles and some of the larger damsel flies as well. We had hoped that the canal would offer some much-needed mooring but no such luck until finally we arrived in time to take the last mooring at Burn Bridge. Caspar, with Nick's help, actually found a way into the water, much to his delight. And it was not far off Archers time for us. Tomorrow it is Selby and a tidal stretch of the Ouse,
Thursday 2nd July: Naburn Locks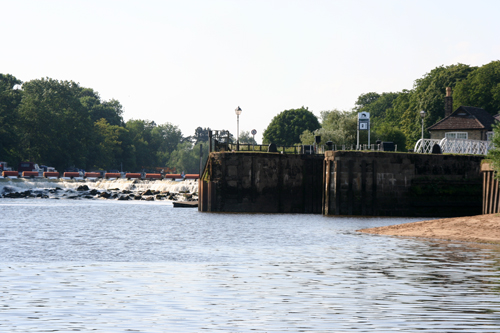 It was already hot when I took the dog out this morning at about eight, We were in Selby soon after ten and more or less decided on going for the three o'clock sailing onto the tidal Ouse. During the wait Nick chatted to Pete on a 'real' boat. Not only did they decide we'd go down together but also booked him in for a VHF course in York next week and sorted a doggy-sitter for Caspar as I'll be down south. As the gates of the lock opened, the current on the river looked appalling but the lock-keeper assured me it was due to the wind! So at about 3.30 we set forth - a good 3 hour haul up a not especially attractive tidal stretch.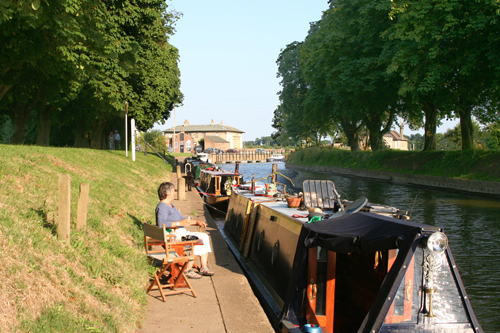 We whizzed under the first bridges in Selby and the first part I found scary - lots of flotsam and jetsam and blackened trunks sticking up out of mud flats. Within a short time we'd dropped well behind our new travelling companion as he'd gone way ahead. After a couple of hours we figured the tide was on the turn and we passed the tributary of the River Wharf along which we'd walked in the Dales a few weeks previously, The surroundings improved somewhat, and we saw a couple of fishermen and some livestock. Then at about six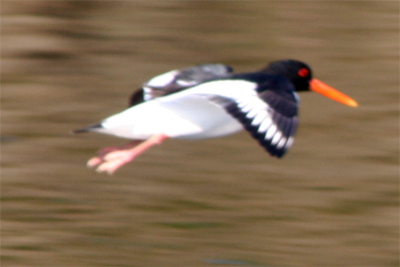 o'clock we were hovering below Naburn Lock with the weir rumbling and tumbling ahead and watching birds landing on the water alongside us. We are now moored under a line of rustling horse chestnut trees on a perfect summer's evening and have spoken with a delightful old chap (80 years plus) exercising his two working dogs (no leads, just two whistles). Caspar took a fancy to the two-year-old bitch and became quite skittish! We were told the way across the flood plain to the pub in the village and are considering doing it as this may be the last settled day!
Saturday 4th July: York - our 10th Wedding Anniversary
On Friday we did not hurry as the forecast was not promising. Nick had discovered that the data lead running alongside the exhaust to the battery monitor had melted, probably with the engine working so hard doing the tidal stretch, and was anxious to sort that. This required much research on the net and some phone calls. We watched other boats set off towards York, but the sky grew darker and darker, and by mid-morning there was a downpour and though not continuing so excessive, it rained till tea time. However it turned out to be a lovely evening and we walked across the flood-plain (under water last winter and last summer) to the village pub for a meal.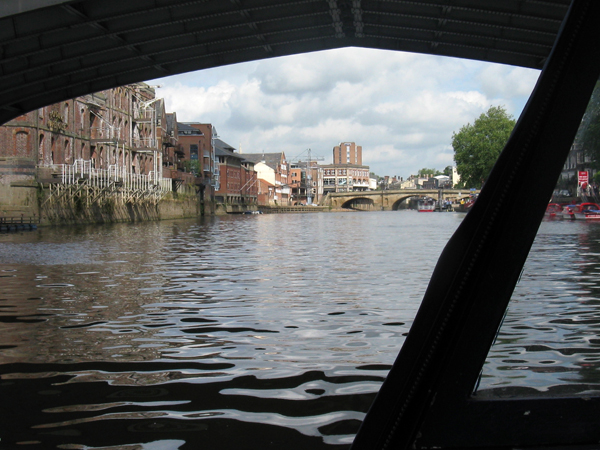 Saturday morning was bright again and we returned to the lock for water and a pump-out before setting off for York: a pleasant stretch of water - lots of moored launches and quiet willow lined stretches, with some hand-washed clothing drying on the roof. (we've found that wet stuff, weighed down on the roof on a sunny day dries brilliantly!) We were passed by some launches and the enormous trip boat which ferries folk from Naburn to York on Saturdays and Sundays in the summer months. At one point we were about to pass two four-handed skulls, but they suddenly shot ahead and we didn't see them again. We passed the grandiose Archbishop's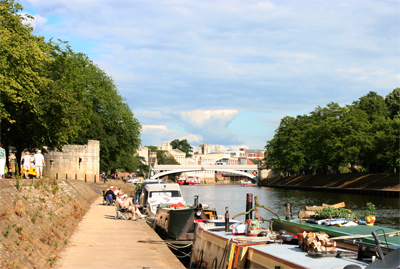 Palace, under the elegant new Millennium Bridge, and were soon coming into York. It was starting to get busy with at least six large boats, with tourists packed on sunny upper decks. We took the very last place on the visitor moorings (note the flood defences along our mooring) - just as well as there are no further moorings up-river for two and a half hours! As the day has gone by, other arrivals have breasted up. We've had two alongside us, the latest a young couple, Lee and Emma - musicians, with two Lurchers who trip across our cratch, much to Caspar's consternation. I slipped into the city and found that we are just ten minutes from the Minster, not open to the public 'til the afternoon. I found the market, open-air and quite impressive, and Betty's Tea Rooms (high tea £15.95, scone cream tea £7.95) and thought we might do that to celebrate our anniversary but when Nick went past at 2.30 there were long queues. Nick managed to find a place up-stream for Caspar to get into the water to cool down - apparently he was in and out after a ball for as long as Nick kept throwing it! Nick is delighted to have found a small shop where the guy was able to fix a new plug to the shortened data cable, and the battery monitor is again operational. We've supped and I must now start to put a few bits together for my trip south tomorrow.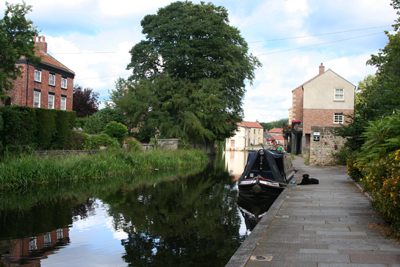 Saturday 11th July: Ripon
So Caspar and I have arrived in Ripon and are moored in the basin - the end of the line: a comfortable final leg from Boroughbridge despite there being four locks to contend with, though they became easier to handle as we progressed upstream on account of the river, and ultimately the canal, reducing in girth. Indeed, a river which had been quite boring up from York subtly changed in character as we travelled northward from Linton lock, such that one hardly noticed the change from river to the comfortable familiarity of the canal. Moorings were few and far between so it was necessary to travel for a couple of hours without a break. I did, however, tie up to what was probably a private mooring for a cup of coffee and a half-hour break a little upstream of Aldwark toll bridge.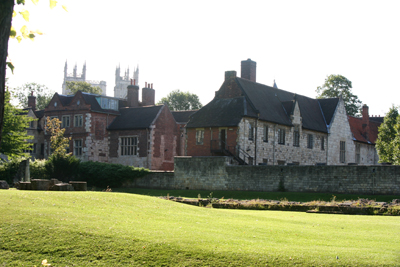 On Sunday morning (the previous) we had risen quite early, Jackie strode off to the York meeting house and I, as I can now recall little of that morning, probably did little.
Jackie returned from her meeting for worship at the usual time between twelve and one, and as we had breakfasted well, we forwent lunch opting to go for high tea at Betty's. Jackie was as much interested in the presentation of the tea as the taste, selecting the more expensive offering so that she could have it set on one of those chromed 3-tier things. I went for the bog standard cream scone tea, though in no way should it be called bog standard! It was delightful, but I shall never think of Polly's Tea Rooms in Marlborough as expensive ever again. We returned to the boat just in time to collect Jac's packed rucksack, and she caught the 17.37 train for Newbury to go via Kings Cross and Paddington.
Monday morning started with the mandatory walking of the dog, after which I walked round to the post office to collect my postal package, a handheld VHF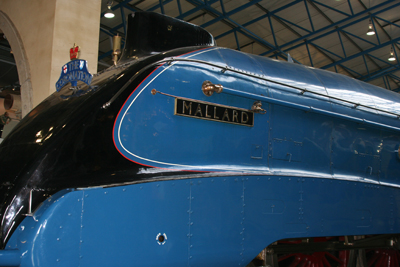 radio, a fairly expensive investment considering the little use it will have, but what use it does have could save a lot of hassle when we are tidal. After unpacking and playing with it for a short while and putting the battery on charge, I crossed the river bridge to the National Train Museum where I spent a very pleasant couple of hours. The first exhibit one sees as one enters the Great Hall is the Mallard, the locomotive that still holds the world speed record for a steam engine, 126 mph. One of the primary memories of my boyhood is going to stay, fairly regularly, with my Potters Bar cousins for a weekend: Patrick and I would go down to Potters Bar station where we would sit to the north beyond the platform by the track, a ganger sitting nearby in his shed would often make us a cup of tea, and we would wait for hours to spot as many as possible of the romantically named engines: The Flying Scotsman; the Sir Nigel Gresley; Sir Launcelot; Sir Walter Raleigh; these are the only ones I can now remember (Pat may remember more) but there were a host of others, and of course, the Mallard. I find it incredible today, that people still go train spotting: there's nothing to see but numbers on a range of engine designs that one could count on the fingers of one hand! But here, am I not showing my age? It could be argued that time lends romance to such as the steam engine, but can the present diesel-electric push-me-pull-me's ever be called 'romantic'?
The moorings in York are ideal for access into the city, but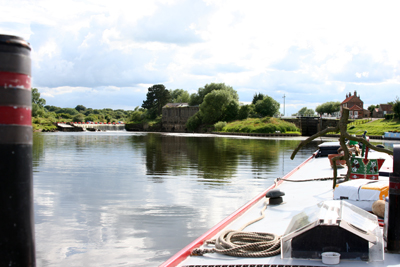 that plus has its negative in that the city has easy access to the river which means it can be quite noisy, and a little intimidating if one is woken from a deep sleep, at pub closure times. So in the afternoon I decided to investigate Linton Locks, advised as two and a half hours upstream. I set off on what seemed an interminable journey probably due to the lack of variety in scenery and arrived more or less on time gliding straight into the open lock which had been prepared by Ron who had passed me about a mile downstream in his faster motor cruiser. I need not have locked up because the moorings below the lock were better than those above, but the activity was beneficial in that Ron and I chatted as we were rising and I learned that Gloriana would be welcome on a mooring at The Ripon Motor Boat Club and that beer was £1 a pint in their clubhouse. Free moorings were non-existent above the lock so I tied up on the mooring reserved for boats using the lock, intending to wait to share with the next boat down, which was unlikely to be 'til the next morning.
And so it was that on Tuesday morning, soon after eight I dropped down below the lock and moored to have breakfast. It had been my intention to stay two nights out of York but Linton lock was disappointing in its facilities: no more than a functional cafe/bar, virtually nowhere to walk the dog, and the continuing daytime noise of RAF trainers overhead.
So mid-morning, we set course back to York arriving there two hours later having had the flow of the river in our favour. The rest of the day was unremarkable other than to record that Pete (of the 'real' boat) and his friend Helen stopped by and shared an hour or so and a drink or two.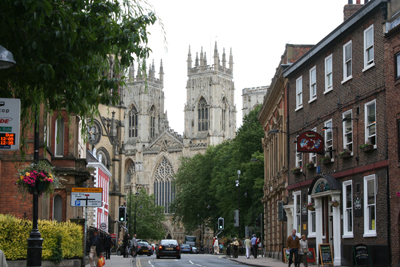 Helen was, in fact, the proposed doggy-sitter for Thursday, but in the course of our socialising she realised that she had forgotten that she had arranged to be elsewhere on Thursday.
So there was a potential problem for me for Thursday!
There is very little to record for Wednesday, wandering around the city, walking the hound, generally passing time in a relaxed manner. A call to Nigel, my tutor/examiner for the following day, established that there would be no problem with Caspar, he was welcome to come along. And so on Thursday at 08.45 Nigel arrived and took us to his home in Elvington, about 9 miles south east of York where, with Pete and a sea kayaker named Roger, I learned how to use a VHF radio in a marine environment and passed a test which now qualifies me to hold a short range radio licence. I'm waiting to receive my call sign, so I'll soon have yet another identity!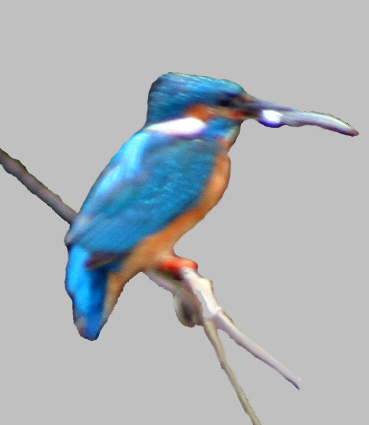 On Friday morning I was up at seven, and by half eight had walked the dog, a walk of decent length as I knew he would be stuck on the boat for two or three hours, and by a quarter to nine we were on our way back to Linton lock, The journey this time seemed quicker possibly because it was familiar and by 11.30 we were through Linton and on our way to Boroughbridge. I had intended to stop at Linton for a cup of coffee but forgot and, in more than compensation, I was rewarded by getting my first real opportunity since leaving Hungerford to get the photograph I most wanted. About twenty minutes upstream of Linton lock I saw the telltale flash of red and blue as a kingfisher went into the water: I dived below to get my camera (more or less at my feet) and came up to see him on my starboard side shaking himself dry, fish in beak. I've seen better photographs but this one, or rather its parent, will do me for now. Travelling on I stopped awhile for coffee before finally arriving in Boroughbridge at about two o'clock. There are good BW facilities across from the visitor moorings and, after filling up with water, and having my fortnightly conference with Suzanne (Head of Centre at Hungerford Nursery), I moored for the night and went in search of provisions. Morrisons is just under three-quarters of a mile from the canal and I was lucky enough to be offered a lift there, although as I had to walk back, I bought only the bare essentials; dog food, milk, and a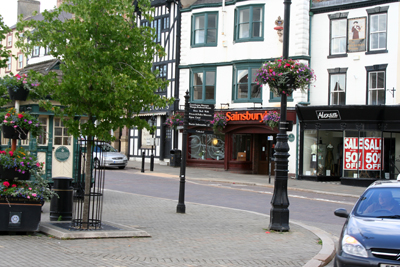 beer to go with my supper.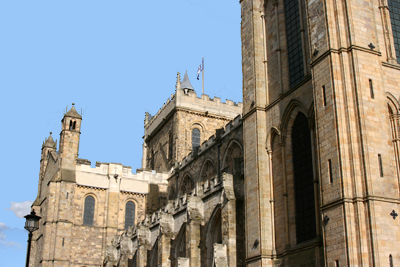 Saturday had started, and remained, a beautiful day, hardly a cloud in the sky. After a leisurely stroll with the dog back to Milby lock, and an enjoyable twenty minutes chat with Rebecca, a passing dog walker, we set off for Ripon. The town is handsome, overseen by an imposing cathedral, and centred on a spacious market square with a fine obelisk equidistant from each corner. At one corner is a traditional shopfront with a coffee house inside its windows, but through the door and down a short passage is an immense Sainsbury's spread over two floors. The Co-op in Hungerford could learn a thing or two from this clever deception.
Tuesday 14th July: Ripon Motor Boat Club
Early Monday afternoon, I was met by Nick and Caspar after just over a week away from Gloriana, having spent a few days in Newbury, travelling down on the east coast rail line - a new experience (thanks Penny and Tony for making me so welcome, as ever) and then a long weekend in Northwich with Patrick and Elanor finding them both healthy and happy. So on Monday there was a new experience - a trip from Manchester Piccadilly to Leeds (spotting an interesting section of the Huddersfield Narrow Canal en route) and then a bus to Ripon, thereby seeing a different face of Yorkshire and passing through the beautiful spa town of Harrogate.
Nick had said I would like Ripon and I did. There is a large splendid marketplace and then walking down towards the boat, there was the Minster, very grand and very old. I visited it in the afternoon and found the extremely ancient and simple crypt very lovely. I felt lazy and spaced out for the rest of Monday but was livelier today. I went into the city quite early and was joined later by the two males in my life, the human one being detailed as official bag carrier. We set off, in the middle of the day but spluttered towards the lock with engine issues! Nick had tried to get diesel in Boroughbridge, and found they were out of stock, Nick thought he'd have enough if he could get some in Ripon. Luckily there was a charming BW linesperson, Julie, who happened to be at the lock, who provided containers and guided Nick to the nearest garage, so were on our way in a surprisingly short while! We are now just south of Ripon and plan to do a bit of culture at Newby Hall before travelling on to Boroughbridge on the morrow!
I'd spoken with Julie at length on Sunday afternoon: I'd aired my views concerning the total lack of management ability that the upper echelons at BW display - they put various jobs, that the BW front line staff have been doing more than adequately, and at significantly less cost, for years, out to contract and the quality of service lessens while the BW staff such as Julie here on the Ripon, Ken (at Nabon lock) on the Ouse, Jim on the Leeds & Liverpool, and Stewart on the T&M, find they have time on their hands which generally gets used cleaning up after the contractors - or it would be if they hadn't had their mops and other such tools taken away! Anyway, Julie has a lovely past: her father used to refurbish, and build anew, touring horse-drawn caravans and she, as a child, had travelled with him, following the caravan on her pony throughout Yorkshire and even way up across the Scottish border. She so obviously enjoys her work and is typical of a high grade resource that is evidently so undervalued by a management that appears to have so little ability and to understand even less what is required on the ground. And I'm supposed to be apolitical !!!
Wednesday 15th July: Boroughbridge
We set off some time before ten, having completed a third wash load as we were hooked up to electricity - not a particularly good idea as the forecast was dire. We said our farewell to Julie who had just arrived at Oxclose Lock and helped us through, we admiring the way she had landscaped the lock surrounds. I had walked with Caspar to the Oxclose in occasional flurries of drizzly rain. We arrived at Newby Hall before eleven and had coffee before walking through an orchard area to the gates. We were greeted courteously by the grounds manager who explained that he would keep an eye on the boat as there had been rain on the moors the previous day and the river could rise quite rapidly.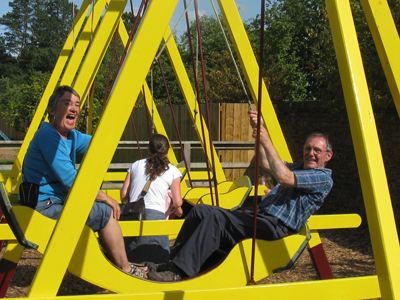 After trying out the leisure facilities, we spent until early afternoon exploring the glorious gardens with the most breathtaking avenue of herbaceous border leading from the house down to the river.
...to see some of our pictures click here
It was certainly a wonderful time to visit; glorious roses - garlands and bowers, tropical areas, and wonderful trees and shrubs. We followed a woodland trail which had an exhibition of modern sculptures in a variety of mediums, stone, marble, bronze,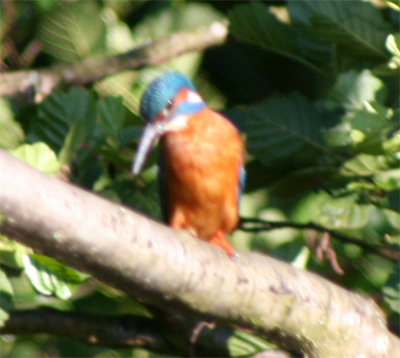 metal and willow - all tastefully placed in the varied woodland settings. Then it was back to the boat for a welcome rest and lunch before setting off for a tour of the house, wonderfully presented by two enthusiastic, well-informed and professional volunteers, one of whose parents had been 'in service' at the house. It took an hour or so and was excellent. The house is magnificent, the original designed by Christopher Wren, and brimming with wonderfully ornate Adam and Chippendale features and amazing furniture. We were even allowed to rest awhile on some Chippendale chairs! The family still live there and most of the rooms we saw are used for house guests. And, wonder of wonders, the sun shone for most of the day. On leaving the gardens and returning to the boat we were told we need not rush off, so I sat in the sun after releasing Caspar, feeding him, and allowing him to enjoy the freedom of the orchard area after the confines of the boat.
We set off on our journey down river some time after six, drifting down river, through Westwick Lock, where Nick was able to record another sighting of a kingfisher, and onwards on a near-perfect summer evening arriving in Boroughbridge just in time time to hear Mike and (wotsername) tie the knot in the Archers.
Thursday 16th July: Linton Lock
I had planned to visit the vet in Boroughbridge for routine annual jabs and check-up (for the dog) and discovered the small town to be quite delightful, In fact I found a truly unique shop - a greengrocer and flower shop from the outside, but inside most food items you could find in a health store, plus a few deli items, plus extra virgin olive oil and rapeseed oil on tap, plus local sausages and meat, plus a small selection of fresh fish daily. A real yesteryear feel to the place and the proprietors were personable! After essential water and diesel had been taken on board, and Caspar had been duly jabbed and prodded, we set off down river to Linton Lock, the weather cooling off and the skies looking increasingly threatening. We are now moored at the lock on a pontoon and the weather forecast is not good. We are expecting the river to rise significantly overnight and the weir across the way looks formidable. Not ideal for our weekend visitors!
Saturday 18th July: York Marina - Naburn
Wooo! On Friday morning we dropped down the lock (with help from gongoozlers, as the lock was extremely tough, circular gear on huge gates worked the paddles, and we were on our way. All night it had rained gently, then it rained heavily and by the time we set off it was gentle and steady again. Furthermore a BW chappie had advised we should move down to Naburn as it was likely the water would rise in the next 24 hours. We arrived in York and moored alongside Museum Gardens, hailing Mike on Blue Toad. There was lots of weather talk. A number of boaters thought BW needlessly pessimistic. After all, we had not had that much rain so they planned on staying.
I went off to do a shop, opting for Sainsburys, because of the rain, and reaching it by a circuitous route, quite by accident. Then, quite by 'happenstance' I came across the Museum of Quilting. Now, I have just finished a book by Carol Shields, 'Happenstance', borrowed from my sister (another absorbing read) where one of the two central characters is a quilter and visiting a quilt convention. Naturally, I had to go in and was not disappointed. 2009 is the 30th Anniversary of the British Quilters Guild and pearls are supposed to celebrate this anniversary so there were 30 or more quilts on display on the theme of pearls. Such skill, beauty, and artistry! I couldn't stay as long as I would have liked as I knew Nick might be anxious and I still hadn't found Sainsburys!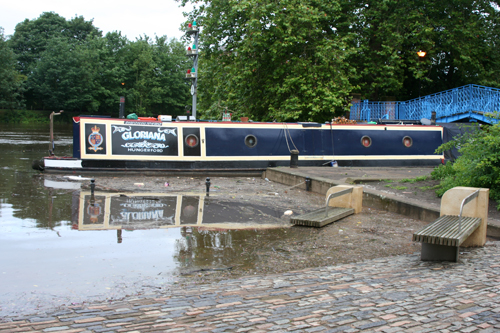 So, having to wait for George to arrive on the half past eight train we had the option of staying put or moving downstream in dwindling twilight. The water was rising but gently. It was just before Nick went to the station that he started to become a little more concerned about the rising water. On his return with George he consulted with the masters of the two boats moored alongside us and decided to leave for a mooring with higher banksides. Mike, with Blue Toad, which has a deeper draft than our half metre, resolutely stayed further up with others rafted along side. We decided to go, and in spite of my 'anxst', found that York, from the river, looks particularly beautiful at night. Nick spotted a 3ft high mooring wall on the estuary of the River Fosse and took the view that this might be better than travelling downstream in the dark. So we pulled in beyond a pedestrian bridge, fixing the front rope to secure railings (Nick slipping on the bow and nearly taking a late bath!), and, driving in a pin for the stern, we finally had our dinner and settled for the night
(or so we thought!).
At 1.15 or so, when I got up to go the loo, the water had risen by a foot or more, removing completely our margin of safety. and we realised that unless we dropped the boat downstream of the bridge, we might be stuck above it but, more seriously, if we didn't recover our safety margin, we might find ourselves on a shelf if the water began to drop. So, watched by a man and his young daughter Riana, returning from a night out, we moved dear GloRiana astern to where, yet again we had a good 3 foot of wall above our gunwales. This time we were right on the junction of the two rivers and this time we had the centre and bow rope tethered. (The inset shows the entrance to the Fosse when levels are normal!) So to a rather restless sleep, listening for bumps and bangs, and Nick having to get up and out to adjust ropes as metallic bumping indicated that the fenders had risen above the stone wall which was the towpath. I actually slept awhile and when I looked out some time after dawn it seemed the the rise might have slowed. However, at seven, Nick reported that the centre rope might come off the bollard at any moment, and so, as it was well light, we set off downstream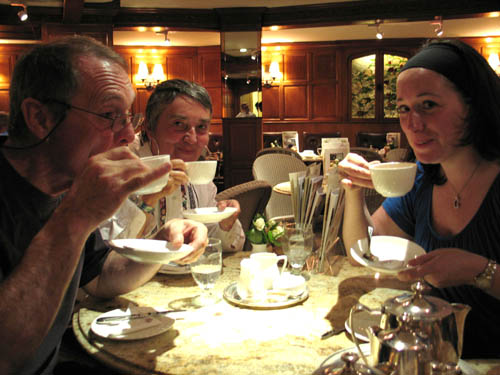 and are now safely moored on floating pontoons at York Marina with Sean and Emm expected at lunch time. This is not the weekend we planned and, as the water is still rising, Gloriana may well stay here whilst we travel into the city by road.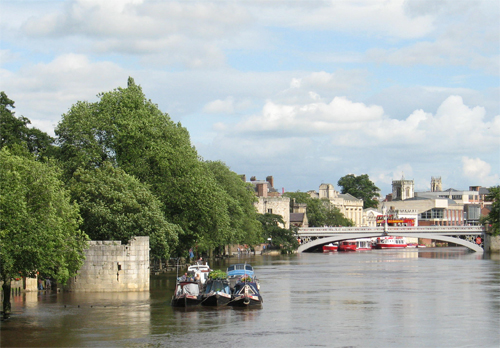 Which we did! There was high excitement over Emm, Sean and baby Joseph's arrival - they had made good time though they hadn't set off at six in the morning as Nick had suggested! Our trip into the city was after a fish pie lunch which Sean said 'was as good as The Crab at Chieveley' - high praise indeed! So we all, except Nick (because with Joe's car seat in place, the car will only accept four adults) piled into Sean's car to see the city - Nick caught a bus! First we went to deliver George's bag to her guest house and then walked into the city, meeting Nick halfway, via the river where we had been moored! We were not entirely surprised to see Blue Toad with two accompanying boats well away from the water's edge. (compare this picture of the river with the similar view of 4th July! the leftmost boat is on the correct mooring position!) They were expecting the water to start going down at midnight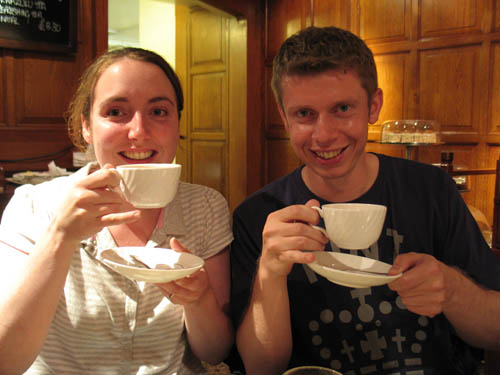 but I can vouch that the level hasn't changed as I write this section of the diary at 5.30 on Sunday afternoon. The girls and chaps parted company - chaps to the Railway Museum, and we girls to the shops and then the Minster. I went round the Minster while George and Emm climbed the tower, coming back with wobbly legs! Then we went off to Betty's to tea, Joseph and buggy being ceremonially escorted to the basement floor in the elevator! So a lovely, and an elegant tea was enjoyed by all, sandwiches, scones and cream, Ripon spicy tea bread, and the odd cake, oh yes, the fruit cake accompanied by Wenslydale cheese, a must-have 'oop here int north'.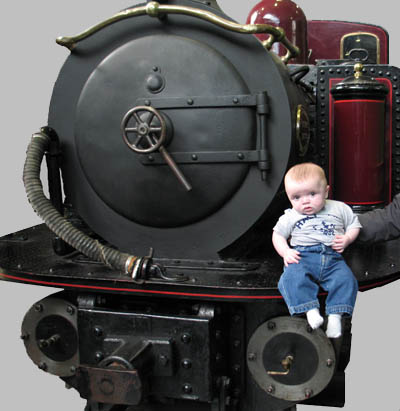 After farewells to George at the door of her overnight accommodation, we went back to the boat with a slightly fractious Joe, only content with his Mum but after an inspection of the sunset and his last bottle he went down without a peep and slept through till gone 7.30 next morning.
Sunday 19th July: York Marina
Yes, we're still here and the river is still high, and likely to continue so, as we had rain in the night and a number of heavy showers today: I can't see it going down too soon. We had talked about meeting George early, but with all the baby rituals that have to be done it was too late for me to attend Quaker Meeting and it was gone eleven when we had done a little shopping in Morrisons and met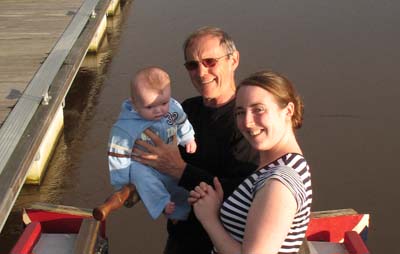 George in a delightful walled garden at the back of a teashop in The Shambles. We had a lazy coffee and the youngsters all had some eats, leaving me worried we were not feeding them enough. After that, Sean drove Nick and me back to the boat to organise the meal, Nick doing all the prep cos I was feeling a tad under the weather. Better now though. The youngsters did some more wandering around the Minster and the shops and we enjoyed a splendid meal together. !?!?!?! *** Sean here! just wanted to stick me' oar in , and make my mark on Jackie & Nic's website! History in the making! better go before I get escorted off the boat (I'll probably get kicked off the 'wrong' side!) Well, I've made history, so I'm off; and now back to Jackie! *** All too soon we had to get George to the station and I was left with a sleeping Joe and a bottle but he didn't awake to allow me to do the honours. The evening now is balmy and beautiful and they have just taken him to be photographed at the helm!
Tuesday 21st July: Naburn Lock
Another angel baby night took us into Monday (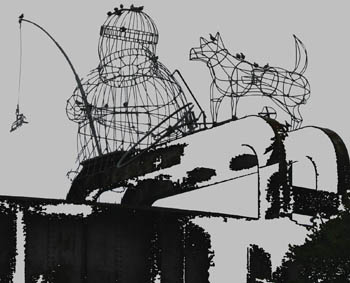 not a whimper, just gurgles just before eight) and Sean disappeared into the blue-beyond in running gear. After a naughty cooked brekkie, there was lots of clearing up and quality Grandad-time. A phone call from Patrick, who had listened to the forecast and learned that Monday was likely to be the best day of the week said he was just leaving home with Elanor which meant that one group would leave as another arrived! And it happened just like that with Elanor just getting a glimpse of Joseph as he left, and being too shy to venture closer. So the boat wasn't too clean and tidy and I'm afraid duvet covers weren't laundered though Patrick had bought most of E's bedding. After a light lunch (there really wasn't much on board) we travelled down to Naburn where the water level only allowed accommodation on the pontoon and this was okayed by the lock-keeper. We then travelled into York together on the bus and, after a quick recce of the Minster, we trailed off to the railway museum, stopping to see Mike and Co, now able to disembark with a gang-plank. Their situation had a headline on the front page and a picture in the local paper. Quite amusing, though it left us quite critical of the responsibility and care offered to visiting boaters on the Ouse. We have previously been on harmless river stretches where there is a clear information, but here, where the water can rise so dramatically - 2 metres overnight and 3.5 in all; when the large local trip boats don't go out because the river is high, yet no one warns visitors or hire boats; when pubs beside the water are given warnings; when whole trees and large logs speed down river - why, why is there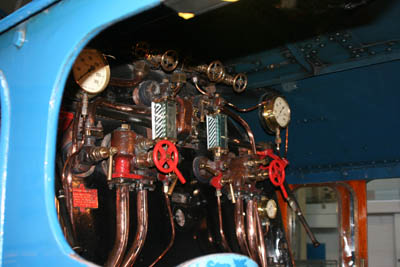 nobody to alert visitors moored in York. Certainly a BW chap at Linton Lock seemed to know what was going to happen, but nobody seemed to show concern for visitors innocently moored in York! In these days of health and safety it seems bizarre. It's lucky that most boat owners have a reasonable amount of good sense and can cope.
We were urgently hungry and had to stop to buy something for supper and an ice-cream to restore our energy levels. We caught the bus to Naburn, Patrick and Nick alighting at the boatyard to collect the car. So a quick pasta supper and a quiet evening with Elanor demonstrating her writing and spelling skills with expert and patient Patrician support. So it was approaching ten, when beds and bedding were sorted and silence reigned.
Today Nick was up promptly when boats started arriving for the first locking down on to the tidal stretch. Nick hauled us back onto the hard standing which was muddied with thick silt. After a lazy-ish start, coffee, and a clear up of Patrick and Elanor's gear, we left Nick and Caspar on an increasingly muddy boat. We went into York and visited the Viking Centre
where we were taken in a time machine back to the early Viking settlement in York, set up with information from an excavation on this site. Then they travelled on, back to Northwich and an evening's rowing. I did some shopping and returned on a busy bus full of damp campers and caravaners returning to Naburn. We have now been travelling for a while but we have never been quite so damp and muddy.
Tomorrow we expect our third set of visitors within the week.
Wednesday 21st July: Naburn Lock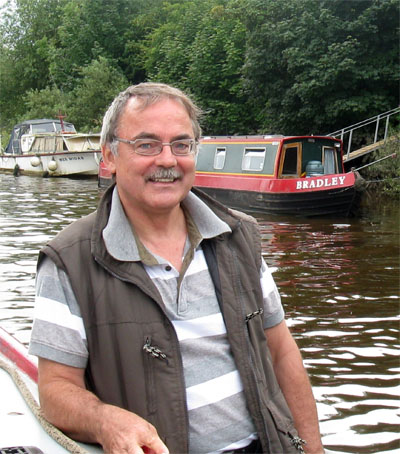 We were up reasonably early: whenever Jackie is expecting visitors whom she knows, she has to do a major clean-up: when she's not met them before she goes into overdrive! Venus must have something to do with this phenomenon, but on this occasion Mars was dragged into service too. So, comfortably before the appointed hour of arrival, 11am, we were sat with the coffee ready to percolate.
I have known Chris Bradley for 50+ years; we both went to St Monica's Primary School in Southgate from the age of six and, until I left to go to boarding school at thirteen, Finchley (Catholic) Grammar School. We enjoyed Scouting together as boys, and again as 20-year-olds as Scout Leaders when I returned to work in London in the mid sixties. At that time I lived in a bedsit, initially in one room no bigger than our shower room in Hungerford, but I was frequently, by invitation, a visitor to Chris's home in Winchmore Hill. I have very fond memories of his Mum & Dad who were like second parents to me at that time, and I have never really forgotten Carole, his sister, who was the first (unrequited) love of my life. As we tried to impress upon June, we enjoyed the innocent pleasures of life - a few beers now and then (each day), and a social life that centred on Scouting with our 18 to 22 year-old contemporaries - lots of outdoor pursuit - much of it in pub gardens. After graduating in Law, Chris moved back to the North East where he had studied, and where he has lived ever since.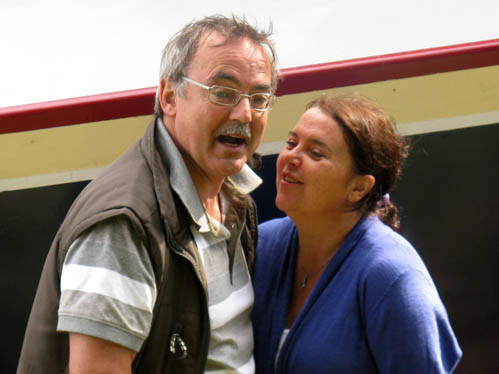 Chris and June arrived just before noon and, though we have neither seen nor communicated (except for the odd two-line email) with one another for twenty-six years, it seemed as if it were only yesterday that we last chatted over a pint. After coffee on board Gloriana we went to The Blacksmiths in Naburn: I had been planning to walk across the fields or to jump on the bus but we all squeezed into Chris's Porsche 911 and were soon ensconced in the snug, chatting over a couple of pints of Pedigree and a ploughman's.
June has been part of Chris's life for three years or more now: she has her own colourful past, many of the shades being painted by her solo travelling of the world from the Arctic to Antarctic (though not the poles so far as I am aware) and many countries in between. Over lunch Chris and I, and June and Jackie, talked separately, so I may have missed a lot of the detail. Separately sustained by cheese and onion, spam fritters, and a bacon and mozzarella burger, we returned to the boat and, as the weather was set fair, motored up to the Millennium Bridge just short of York, winding to return to our Naburn mooring for six o'clock. Perhaps Chris, seeing a boat with his name, might now have the seed of a boating future, but no way is he going to trade in his Porsche!
After more chat over a bottle of Merlot and a few dishes of pasta, it was time for C&J to head for home. So shortly after eight we said our goodbyes, with what I hope is a real commitment from the two of them to join us for a few days cruising, perhaps on the Lancaster Canal where I know there are abundant hostelries.
Wednesday 29th July: Naburn Lock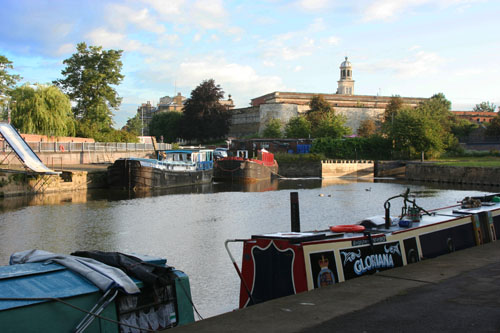 Not very much at all to write about of the past week. After our highly sociable five days we decided to chill out for a couple which took us to Saturday when Jackie took off to York University campus for her Friends' Annual Meeting.
Monday continued in the same vein, with a walk to the Blacksmiths in the evening, an evening which was balmy and warm enough to sit out on the front pavement and watch the world go by.
Tuesday started late, my rising after nine, and after taking on water Gloriana set off for the city centre for one last time. Moorings by the Museum gardens were fully taken so we dropped back to moor in the Fosse basin, this time beyond the floodgate and just below the lock. Jackie arrived soon after the lines were tied and emptied the fridge of the remaining eggs and bacon, also polishing off the rest of the bread. So after we'd walked into the centre together and she'd caught the bus back to the campus, I set off for Morrisons. Returning to the boat, the weather began to deteriorate so, rather than setting off for Naburn as had been the plan, I battened down the hatches and stayed the night.
So, at seven o'clock this morning I left the mooring, and arrived above Naburn weir just one hour later. Tomorrow afternoon we will be going down to Selby.
Thursday 30th July: above Selby Lock; on the Selby Canal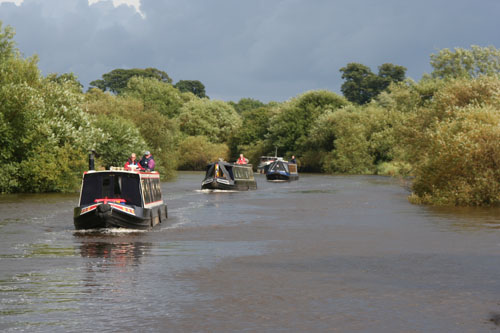 So with the navigable tide not due until half-past three in the afternoon, there was no need to be up early.
But at half-past eight, dog and man were walking the fields; man keen to get it done before the expected rainfall, and dog happy to get back for an early breakfast. At eleven-ish the heavens opened and the thunder rolled, which might have been of concern had not the forecast predicted this event, with a dry sunny afternoon to follow. There were still sporadic showers into the afternoon, and as we waited in the lock to drop down to the incoming tide, there was yet another thunderstorm. Light rain continued for the first half hour of the journey before, finally, the sun came out, though there were threatening clouds continually skirting around it. As I led five other boats downriver to Selby, I had my chance to use my new toy, the VHF radio; radioing ahead to Cawood swing bridge to check the air draft (height from river level to underside of bridge); to Selby Toll Bridge to advise contractors that we were on our way (they had rather a large barge blocking the navigation but had moved it aside by the time we approached); and to Selby lockkeeper establishing that the lock was open and that I could go straight in. Which I did (ahem) in textbook fashion. Before setting off from Naburn, several of the skippers and crew were getting up-tight about negotiating the entrance to the lock beca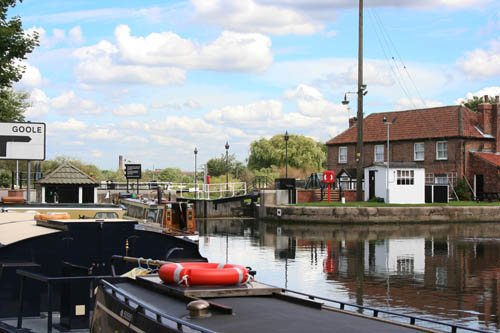 use of the tidal flow, but all six made a tidy entry and are now in the relative safety of the canal. One of the ladies, Barbara aboard nb Clarice, was really very apprehensive, something not really helped by the worrysome attitude of her husband, John, so I introduced her, by way of a drop on the tongue, to the Bach flower remedy, and though on arrival she wouldn't admit to enjoying the experience, she said that she had been quite relaxed all the way down. In the evening Brian and Anne, off an ex lifeboat, Arcadia, came aboard Gloriana and we spent a convivial hour or so over a couple of beers - in the absence of wine, I introduced Anne to Badgers Golden Glory, Jackie's favourite, which has a delicate peach and melon aroma: I believe Badgers brewery now have another convert.
Friday 31st July: above Beal Lock; on the River Aire
And yet another month draws to a close. It was not a good night, for around 1.30 in the morning there was a lot of commotion in the lock basin where we were moored: the sound of banging metal; things being thrown into the canal; so much so that I got up and dressed. I saw a boat drifting silently down the cut, apparently without a helm, but as I was 'phoning the police, its engine started and it was taken astern into a lateral mooring across from where Gloriana lay. After a while peace descended and I returned to bed. One disadvantage of having a boat with portholes rather than large windows is that it is far from easy to see what is happening outside which makes such occurrences that bit more discomforting.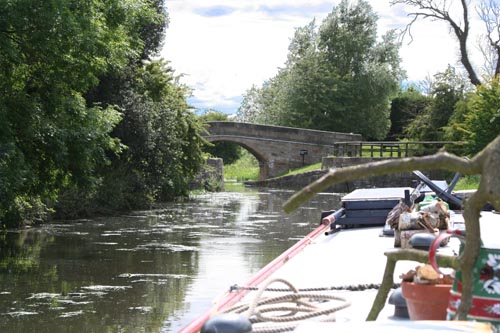 So a later rise than intended, and after walking into the town for shopping, and doing a pumpout with a less than adequate BW pumping system, we left Selby. I hadn't been too impressed with the Selby Canal when we came up and the return journey was no more memorable: the most scenic point in the journey was probably the approach to Paperhouse Bridge, not far short of West Haddlesey Junction. A beautiful morning with a cloudless sky had changed to a very overcast afternoon, and though it didn't rain there was a strong breeze which kept the temperature down and the coat on. Arriving at West Haddlesey, we stopped for a half hour so that Caspar could stretch his legs and I could have a cup of tea. The progress through the water had seemed sluggish, so I checked the weed hatch but found it clear: a bough which Gloriana had picked up on her bow soon after leaving Naburn Lock the previous day, and which I thought we had left behind on the Ouse, was still firmly located there just below the waterline and it was this which had collected a mass of weed on the trip from Selby. Once we were out on the Aire, performance was markedly better, probably as much due to being on the deeper river as to being relieved of excess baggage. An hour later Gloriana arrived at Beal Lock and, as it was past Caspar's dinnertime, I moored for the night, not least in anticipation of peace (after the previous night) and a good night's sleep. By eight in the evening the rain had returned, so a wet three-hour journey to Castleford is in prospect for the morning.